Admission
We are welcoming foreign and local students for obtaining higher education for graduates and undergraduate programs ensuring quality education at affordable cost at the Asian University of Bangladesh.
AUB is always committed to make the admission process easy and simple for all prospective students. They are advised and guided properly by the officials of Admission, Students' Affairs and concerned Departments. The admission seekers may apply online from anywhere. They can also get admission by visiting the Admission Department physically. The entire process of admission is carefully guided by competent AUB officials. Admission and all other fees can be paid online from anywhere and at any time, or using on campus CRM terminal. AUB.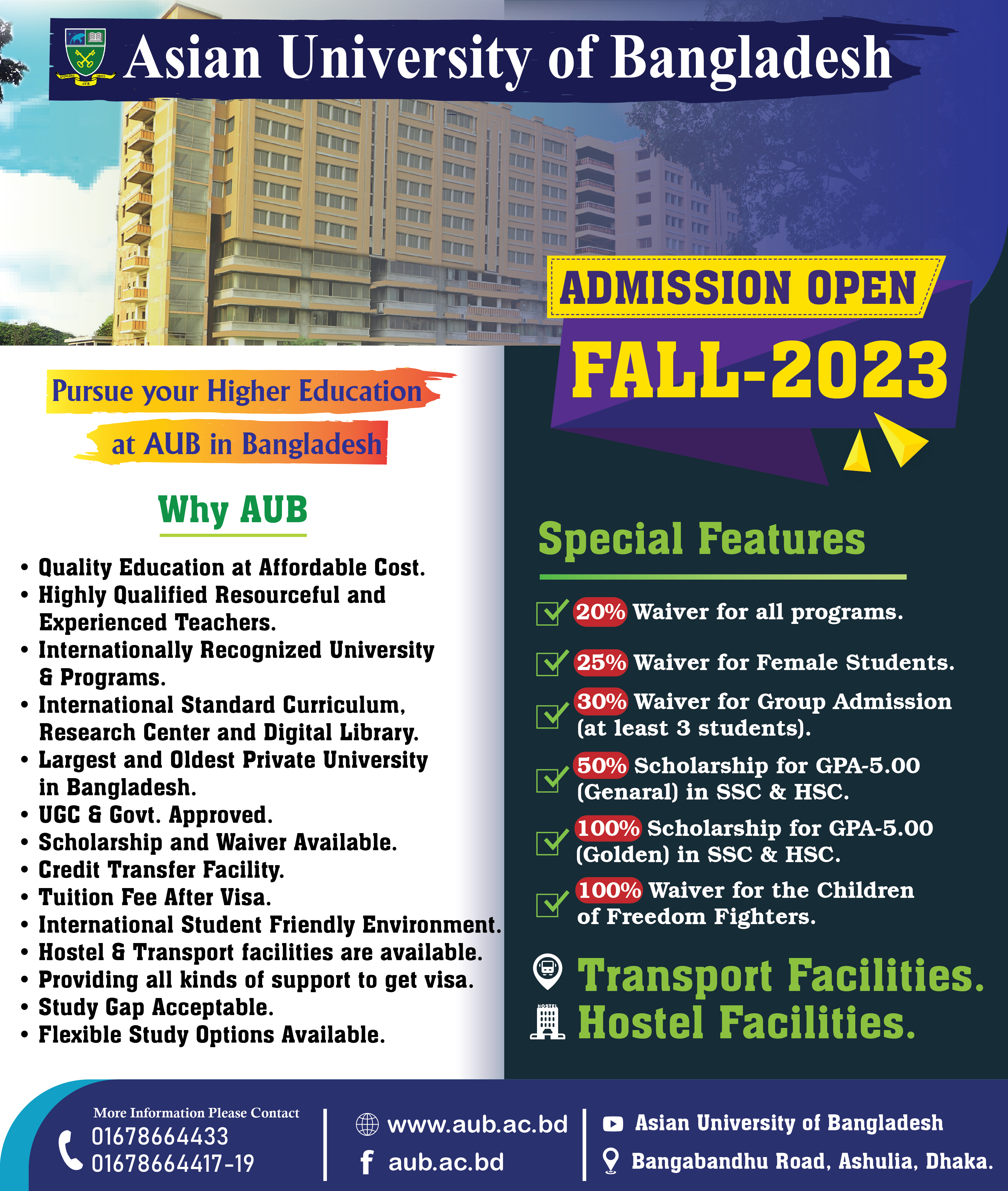 Why Asian University of Bangladesh?
- A unique seat of best quality international standard higher education in Bangladesh;
-'Led by Prof. Dr. Shahjahan Khan, an internationally renowned Australian Academic/scientist and Emeritus Professor as Vice Chancellor;
- Tuition fee is kept minimum in comparison to other private universities to make higher education affordable for low-income families;
- Follows state of the art curriculum based on Objective Based Education (OBE);
- Taught by highly qualified and experienced teachers;
- Rich library containing more than 1.0 lac printed books and journals;
- Digital library provides e-books and e-journals;
- Impart human values and ethical education;
- Waiver up to 100% based on the results of SSC and HSC/ Dakhil and Alim;
- Scholarship and tuition fees waiver for poor students, and students achieving high GPA;
- Full tuition free for the children of all Freedom Fighters;
- Accommodation and Transport facilities are available;
- Emphasizes on physical activities, sports and co-curricular activities;
- Canteen with good food at reasonable cost in a good environment;
- CRM terminal facility in the campus for deposit and withdrawal of funds;
- Ample facilities for indoor and outdoor games;
-Spacious campus surrounded by greeneries.

Admission Eligibility
At honors level, applicants must have minimum average CGPA 2.5 or second division in Science, Commerce, Arts and Diploma or equivalent. However, if any applicant has GPA 2.00 at any level s/he must have a total GPA of 6.00 combining SSC and HSC

At Masters level the candidates must have the above results and a minimum of GPA 2.00 or Third division in the Bachelor degree.

Candidates passing HSC and/or equivalent in Science Group may only apply for admission to honors programs under Sciences and Engineering Faculty.

For O-Level students, applicants have to pass at least 5 subjects and for A-Level, candidates have to pass at least 2 subjects. Among those passed subjects, the candidates must have B Grade in 4 and at least C Grade or GPA 3.50 in the other 3 subjects.

For the children of the Freedom Fighters, the candidates have to obtain GPA 5.00 in SSC / HSC or in equivalent examinations.
Admission Requirements for International Students
International students particularly who come from other systems like US High School Diploma/GED/ Indian/Nepalese system, etc. (not from SSC/HSC or O/A Leve,l etc.) the admission eligibility will be as follows:
Must be 12 years of schooling,

SAT score of 1100 or

Pass with at least upper 50% marks/grade of their own education system,

International students fulfilling the admission eligibility need not appear at the Admission Test.
An equivalence committee will assess and recommend for satisfactory grade for the applicants who seek admission in AUB with US High School Diploma or who come from other systems. The equivalence committee will assess and recommend for waiver of Admission Test, Scholarship, etc. (if applicable) for foreign students and the students from other systems.