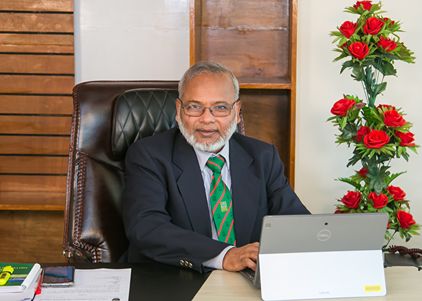 Professor Dr Shahjahan Khan
Vice Chancellor, Asian University of Bangladesh
Vice Chancellor, Asian University of Bangladesh. Expatriate Fellow, Bangladesh Academy of Sciences . Chief Editor, Journal of Applied Probability and Statistics (JAPS), USA. Emeritus Professor, University of Southern Queensland, Australia
Contact
+8801678664402
vice-chancellor@aub.ac.bd
Asian University of Bangladesh, Ashulia, Savar, Dhaka, Bangladesh
Message from the Vice Chancellor
Assalamu alaikum – peace be with you.
On behalf of Asian University of Bangladesh (AUB) I extend to you the warmest welcome to our website. Established in 1996, the campus of AUB is situated on a 10 acres of land block with a 10-storied building of floor area 250,000 sq. ft. in Ashulia, Dhaka, Bangladesh. It is one of the largest and most beautiful campuses of all private universities in Bangladesh.
I am very humble, and honoured, to be able to serve the country of my birth after teaching/working in many universities in Australia, North America, Europe and the Middle and South East Asia over three decades. I thank the Honourable President of Bangladesh for appointing me as the Vice Chancellor of AUB.
AUB believes that the success of our students is our pride.
As an old and leading provider of higher education in Bangladesh, AUB is highly committed to provide best available facilities and resources to our students to realise their maximum potential as students and to achieve their career goals.
The essence of any university is to create skilled professionals to meet the growing needs of diverse and specialised demands in the national and global job market. As the Bangladeshi economy is growing fast, our nation needs more skilled university graduates to meet the development targets both in the private and public sectors.
Adopting appropriate curriculum, syllabus and delivery methods, we are fully committed to ensure all our programs (degrees) and courses fully comply with the Outcome Based Education (OBE) regulatory requirements of University Grants Commission of Bangladesh.
At AUB, we operate on the premises that the contemporary workplace requires job-ready graduates. Employers are always in need of highly skilled professionals to work independently and/or a part of a team. In fact, well-educated, hardworking, and honest graduates with the best subject knowledge and communication skills are highly sought after at home and abroad.
Highly qualified, dedicated and fully committed teachers are the keys to produce the best graduates. We use appropriate educational technologies and both traditional and digital learning materials to make the learning journey of our students easy and effective.
Innovative teaching methods coupled with education technologies for the delivery of course materials, thoughtful assessments and inspirational communications help prepare our students to best fit in the workplace with the ability to solve problems in any working environment.
We believe and practice work integrated learning (WIL) approach to enable our students to acquire industry experience and familiarise themselves with the workplace and potential employers before they graduate.
We know, although most graduates normally prepare themselves for existing lucrative jobs, the nation and the world are in dire need of new generation of entrepreneurs who could introduce innovation to create opportunities of jobs through introducing new industry, technology, management, goods and services. Our curricula and teaching are reflective of this graduate quality.
As per the program and course learning outcomes, our students learn how to analyse and review different problems/issues with a view to assessing any situation/issue, finding solutions, making appropriate workplace modifications and recommending policy changes if appropriate.
In addition to imparting conventional and modern discipline knowledge and technical skills, at AUB we emphasise on the importance of excellent oral and written communications skill and teach universal human values to commit to honesty and ethics in their professional and personal lives.
Research is a mechanism to generate new knowledge, expand the boundary of current state of technologies and help adopt innovation for the benefit of the society. AUB is fully committed to encourage, prepare and train new generations of researchers along with mentoring and supporting young researchers to enhance their prospective careers.
AUB's institutional culture of teaching and learning excellence, innovative research, hands on training and personal care to the students have given many of our graduates the opportunities to achieve professional distinction at the highest level in Bangladesh and beyond.
If anyone is genuinely committed to higher education and building a career through learning and receiving training in a specific discipline in an environment of great care and support, AUB is ready to welcome and provide them the best opportunity to realise their dreams.
Thank you for visiting our website and we hope to welcome you in our beautiful campus soon.
Professor Shahjahan Khan, PhD
---
Biography of Professor Dr Shahjahan Khan
Vice Chancellor, Asian University of Bangladesh, Dhaka
Emeritus Professor, University of Southern Queensland, Australia
Emeritus Professor Dr. Shahjahan Khan, after long 30 years of teaching at the Southern Queensland University (USQ) in Australia as the Founding Professor of Statistics, decided to come back to Bangladesh, his beloved motherland. This is because the Hon President of the People's Republic of Bangladesh and the Chancellor of the Universities of the country has appointed him as the Vice Chancellor of the Asian University of Bangladesh. Professor Khan studied at Jahangirnagar University, Savar, Dhaka and obtained his honours and Masters degrees in Statistics. Later he did his second Masters and PhD degrees from the Western University, Ontario, Canada. He started his career as a Lecturer of Statistics at the Institute of Statistical Research and Training (ISRT), University of Dhaka in early 1980. He also taught at Western University, Canada; King Fahd University of Petroleum and Minerals, Saudi Arabia; Sultan Qaboos University, Oman and Bahrain University, Bahrain. To mark the great scholarly contributions of Prof. Khan, in 2022 USQ has introduced 'Professor Shahjahan Khan Scholarship' for the students of Bangladesh, Malaysia, Pakistan, Indonesia and Afghanistan. In a rare acknowledgement of his exceptional teaching and research contributions, in October 2022, USQ appointed Prof. Khan as an 'Emeritus Professor'. This is an unprecedented professional recognition of a Bangladeshi origin scientist by a top ranking western University. Professor Khan presented lectures and seminars as a visiting Professor at Tokyo University, Japan; Carleton University, Ottawa, Canada; Kolkata University, India; National University of Singapore; United Arab Emirates University, UAE; University of Malaya, Malaysia; University Putra University, Malaysia; University Science Malaysia, Malaysia, University of Technology Malaysia; Karachi University, Pakistan; and different Universities in Rajshahi, Chittagong, Sylhet, Dhaka, etc in Bangladesh. He was the President of the Islamic Countries Society of Statistical Sciences (ISOSS) from 2005 – 2011. As the president of ISOSS, he organized successful international conferences in Kuala Lumpur, Malaysia (2007); Dhaka, Bangladesh (2008); Cairo, Egypt (2008); Doha, Qatar (2011); and Bogor, Indonesia (2014). ISOSS organised an international conference in his honour in 2011. He is an elected member of the Netherland based International Statistical Institute (ISI), elected Fellow of the Royal Statistical Society (RSS) of UK; a member of the Institute of Mathematical Statistics in the USA, and Australian Statistical Association. Besides, he is a life member of Bangladesh Statistical Association and ISOSS.
Professor Khan was awarded Islamic World Educational, Scientific and Cultural Organization (ISESCO) Gold Medal in 2001 for his outstanding contribution to statistical research and ISOSS Gold Medal in 2007 for his global professional leadership. In 2012, Bangladesh Statistical Association awarded him the prestigious Qazi Motaher Hossain Gold Medal. He is only the fourth recipient of the award since it was introduced in 1990. As recognition to his contribution to basic research he was elected as an 'Expatriate Fellow' of the Bangladesh Academy of Sciences (BAS) in 2013. He is the founding chief editor of the US based Journal of Applied Probability and Statistics (JAPS) since 2006. Besides, he edited number of conference proceedings, and served as a guest editor of Journal of Statistical Research and Pakistan Journal of Statistics. Prof. Khan's research fields, include Public Health, Evidence-based Decision, Meta-analysis, predictive inference, linear models and preliminary-test shrinkage estimation. He has so far more than 250 research articles to his credit published in the peer reviewed international journals. He has delivered 29 keynote addresses in international conferences, presented 19 research workshops in different countries and participated in about 100 professional seminars as invited guest. In carrying out his professional responsibility and his involvement with different international professional organization Prof. Khan had opportunity to visit more than 40 countries of the globe. In the recent past famous publisher, Springer Nature, published his book entitled, 'Meta- analysis methods for health and experimental studies'. During a period of only two years after the publication, the book already has more than 20,000 downloads. In USQ, as the founding chair, Prof. Khan worked as the head of the statistics discipline for several years and as an elected member of the Academic Board for six years. He supervised eighteen PhD students and 3 M Phil students. Among them there are 5 Bangladeshi students. He worked as mentor of a number of Post-Doctoral fellows and young researchers. Before coming to Bangladesh, Prof. Khan was appointed as an adjunct professor of USQ. In addition to his academic roles, Prof. Khan has been always kept himself active in rendering community services in Australia. For the recognition of his extraordinary social services, he has been bestowed a number of awards. Among those Multi-cultural Service Award (2002), Islamic Council of Queensland Community Service Award (2011), highly prestigious Queensland Cultural Diversity Ambassador Award (2014), Queensland Police Service Award (2017) and USQ Diversity and Inclusion Award (2018) are mentionable. He played an active role in establishing the Islamic Centre in USQ in 2000 and served as the coordinator since 2014. He also worked for the USQ Multi-cultural Staff Network as its President during 2013-2021. He organised a number of seminars in Toowoomba and USQ on Multi-culturalism. In the year 2019, he organised an international symposium on this issue at International Islamic University, Malaysia. He wrote a several articles on this topic as well.
Prof. Khan played a leadership role in building the first and only Mosque, Toowoomba Garden City Mosque as the founding President of Islamic Society of Toowoomba and Chairman of Toowoomba Islamic Charitable Trust in 2014. After setting ablaze of this Mosque in 2015, he led the drive of collecting funds to rebuild the mosque. The rebuilding work of the mosque is nearing completion at a cost of about AUS$ 2.0 million. Prof. Khan also worked for Islamic Council of Queensland and served as its Vice Chairman for two terms (2007, 2014). He was elected as the interim chairman of the Australian Foundation of Islamic Council (AFIC) in 2016. In addition to these, he worked as an elected director of the Muslim Community Cooperatives of Australia (MCCA) during 2014 – 2017. The Melbourne based MCCA is the oldest and the largest Islamic Finance Institution in Australia. For creating public awareness and to attract the attention of the policy makers to the social issues, Prof. Khan had authored series of research articles on different social and community problems. He also played a vital role in organizing community people to submit an appeal of the Australian Parliament for protecting the rights of the suffering masses in Palestine Dr. John McVeigh, the honourable Federal Parliament Member from Groom, in his first speech in the Parliament mentioned the name of Prof. Shahjahan Khan for his community services. Mr. David Janetzki, State MP of Toowoomba South also spoke about Prof. Khan in his maiden speech in Queensland Parliament. Prof. Dr. Geraldine McKenzie, the honourable Vice Chancellor of the USQ in his inaugural speech in the 9 th Annual Toowoomba International Food Festival and the open day of the Garden City Mosque, in July 2021 expressed his profound regards to Prof. Khan. He said, "Professor Khan is unparalleled in rendering community services. He will ever remain as a bright star in the minds of the Toowoomba community people for his upholding and preaching the concept of mutual understanding amongst communities, showing respect for other cultures, his internationalization, deep realization and exclusive attention to the multi-culturalism". Emeritus Professor Shahjahan Khan comes from a very respectable Muslim family in Pukharia in the district of Gopalgonj, Bangladesh. He is married to Mrs Anarkali Lutfun Nahar and blessed with 3 sons. The eldest son Imran is a world renowned IT specialist and the younger two, Adnun and Albab are well educated entrepreneurs and own their production industries in Australia.
Writer: Dr. Zahirul Islam is an Associate Professor of the Department of Statistics, University
of the United Arab Emirates. The author was a PhD student under Prof. Shahjahan Khan at the
University of Southern Queensland.
He may be contacted via: E-mail: zohirul.hoque@uaeu.ac.ae